We're proud to announce that, on the 4th June 2017, our team member Kirsty Denslow took part in a fundraising abseil for the charity Sight Concern Worcestershire. This charity works with the visually impaired / people who have recently lost their sight, and helps them adapt to independent living, which is something we can all acknowledge is vital for a healthy and happy life…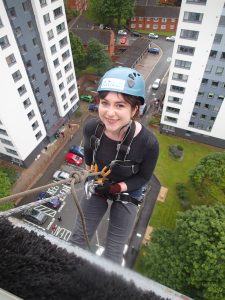 Despite the less than pleasant weather, Kirsty abseiled approximately 150 feet down a 14-story building, with a very large smile on her face. She is incredibly happy to have raised £511.25 for this local charity, not only is she pleased to know she has "given back" to her local community, she also found it extremely enjoyable to challenge herself and try a new experience. Kirsty has several relatives with varying levels of visual impairment, and so she was also deeply touched by the generosity of her friends and family, and the generosity of our clients, who helped her raise such a large amount of money.
Kirsty has also recently been informed that this event is estimated to have raised a total in the region of £10,000, a record breaking amount for the charity to raise in one single event. We're incredibly proud of our team member for taking part in such a wonderful event, and we're looking forward to supporting her in future fundraising events!